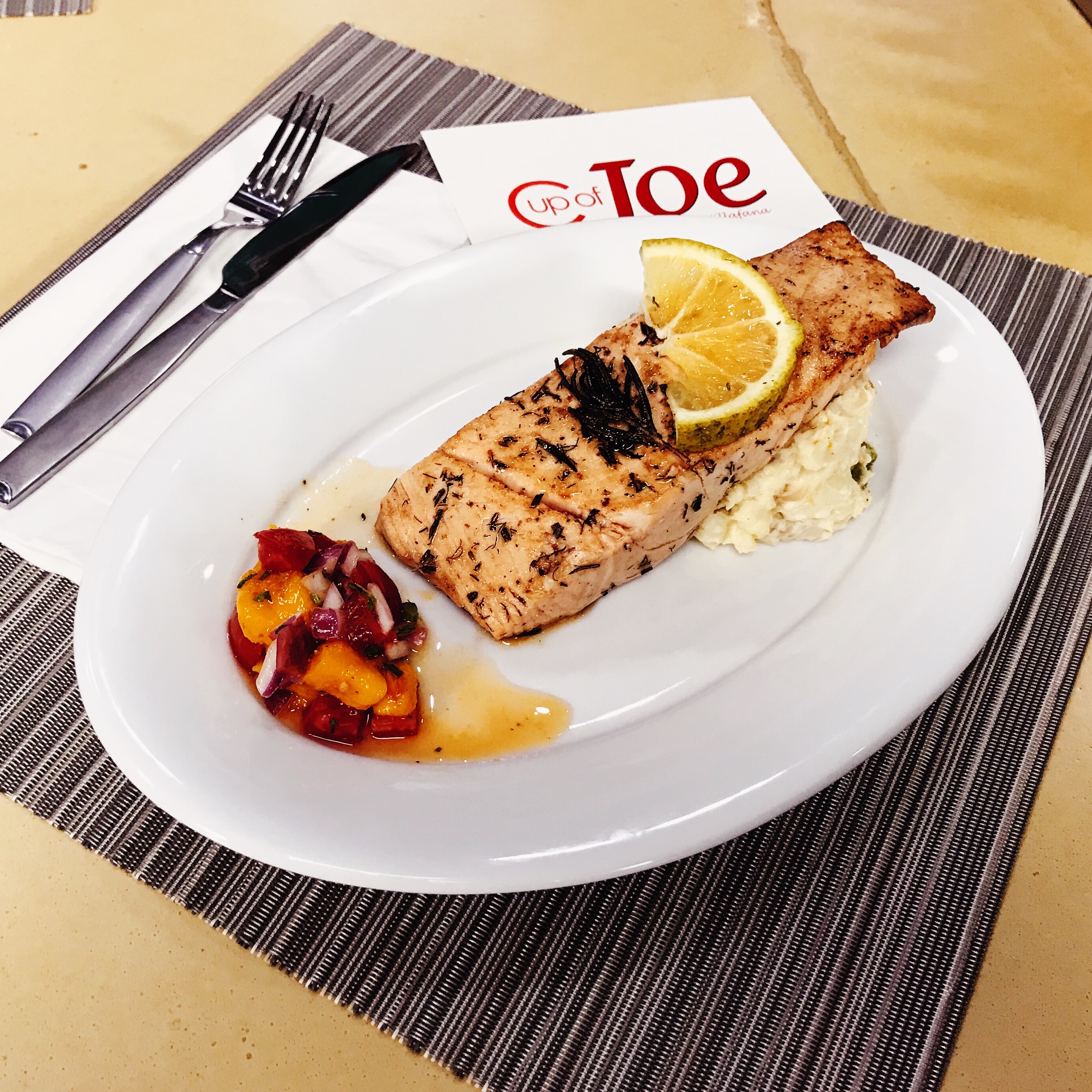 04 May

Pan Seared Salmon With Festive Potatoes & Tropical Salsa

PAN SEARED SALMON (Serves 2)
2 7/80z Chilean Salmon Fillets
Lemon
Salt
Cracked Pepper
Dill
Rosemary
Butter
Vegetable Oil
FESTIVE POTATOES
Cream Potatoes
Jalapenos
Garlic
Sweet Peppers
Red Onions
Sour Cream
Heavy Cream
Butter
Vegetable Oil
TROPICAL SALSA
Julie Mango
Red Onions
Tomatoes
Lemon
Cilantro
Salt
Cracked Pepper
DIRECTIONS
Salmon:
Season Fillets with juice of lemon, salt and cracked pepper on both side and cover with foil.
Heat casted iron skillet on medium high, add 1 tablespoon vegetable oil then 1 tablespoon of salted butter.
When the butter is melted, add dill & rosemary (coarsely chopped)
Add Salmon and cook for 2mins on each side.
Potatoes:
Slice potatoes into bite-size pieces and add boil till fully cooked
Melt 1 tablespoon of salted butter in a skillet, then add ½ tablespoon vegetable oil.
Saute ½ cup red onions and ½ sweet peppers and cover for 2-3 mins
In another skillet, melt ½ tablespoon salted butter and ¼ tablespoon vegetable oil.
Add 4 cloves of finely chopped garlic and saute for 2 mins or until golden brown in colour and then add 1/3 cup finely chopped jalapenos.
Fold in Potatoes with red onions and sweet peppers, then add ½ cup of heavy cream, 1 table of sour cream and last the garlic and jalapenos.
Salsa:
Diced 1 cup of Julie mango, 1 cup tomatoes and 1cup of red onions and combine into bowl.
Add 1 teaspoon of salt, ½ cracked pepper, 1 teaspoon brown sugar and juice of ½ of lemon.
Sprinkle a tablespoon of cilantro and combine well.
Plating:
Mount potatoes and add salmon fillet on top diagonally, top of with twisted lemon slice and sprig of rosemary.
Add salsa to the small side serving dish and place alongside potatoes and salmon and top of with a ting sprig of cilantro.
And there you have it, Pan Seared Chilean Salmon with festive potatoes and tropical salsa. Grab a fork and take your taste buds on a flavourful adventure.