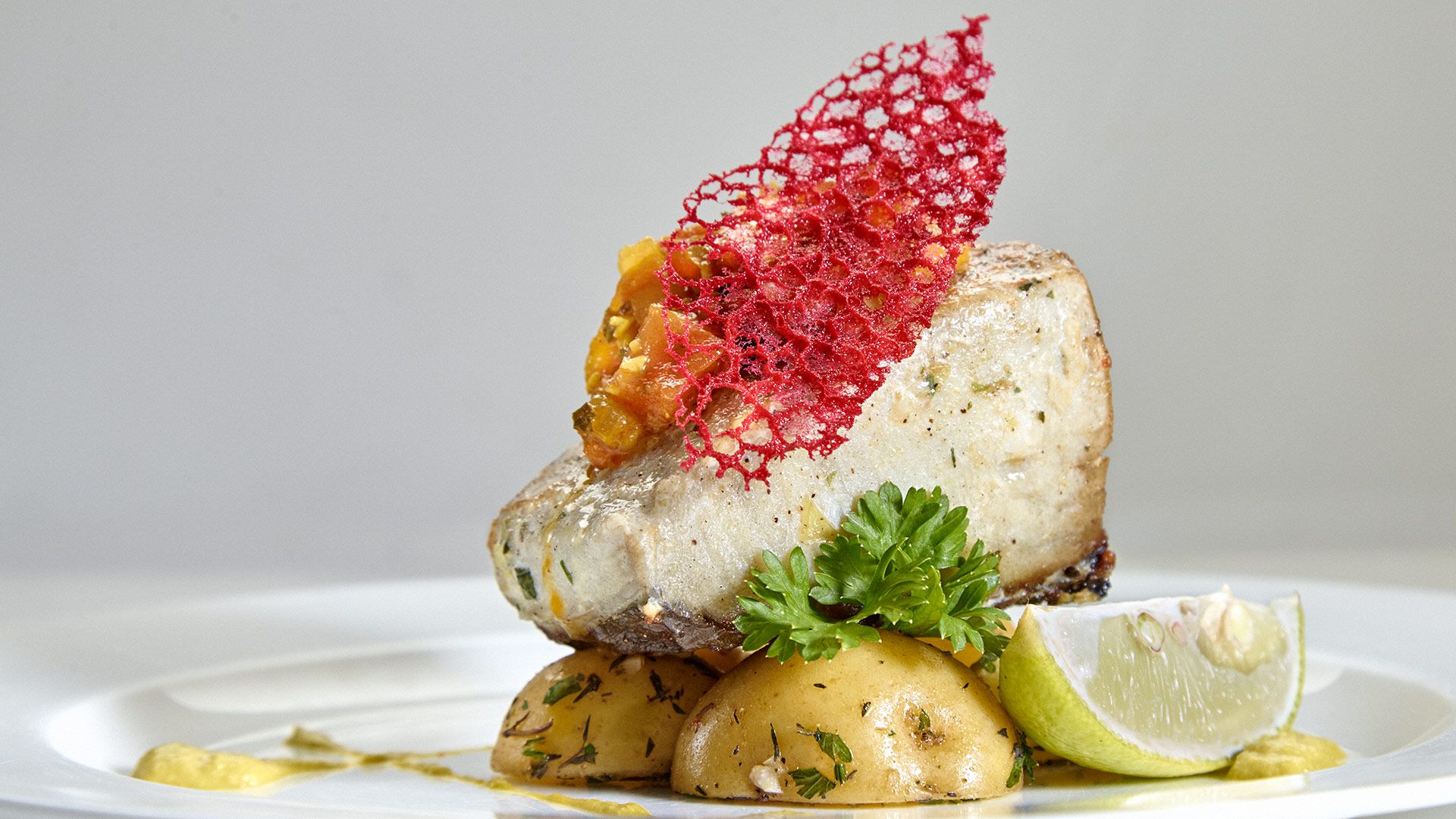 06 Oct

Butter basted King Fish napped with curried tomato concasse on Thyme infused fingerling potatoes & chive emulsion

(serves 1) prep time 45min
Ingredients
King fish 8oz fillet
 Salt 1 tsp
Black pepper 1 tsp
Ginger powder 1 tsp
Cayenne pepper 1 tsp
Lime juice 1 tbsp
Butter 4 oz
Olive oil 2 oz
Tomato concasse
Tomato 6 oz chopped
Curry powder 1 oz
Mustard oil 2 oz
Garlic chopped 1 oz
Pimento chopped 1 oz
Cilantro chopped 1 oz
Black pepper 1 tsp
Salt 2 tsp
Sugar 2 tsp
Coriander 1 tsp
Onion chopped 1 oz
Thyme Infused Fingerling potatoes
Fingerling potato cut in half 6 oz ( cooked )
Coconut oil 2 oz
Garlic 1 oz
Fine thyme chopped 1 oz
Salt 1 tsp
Black pepper 1 tsp
Method
King Fish
Season King Fish with salt, black pepper, ginger powder, cayenne pepper and lime juice and let marinate for 15min. In hot sauté pan add olive oil, allow to further heat for 2 min the add king fish flesh side down. Sear until golden brown then flip. Add butter, while butter is melting tilt sauté pan slightly. Using a large spoon, scoop melting butter on to king fish and continue this for 5min. This is called the basting method.
Tomato Concasse
In hot sauce pot add mustard oil, garlic and onion allow cooking for 2 minutes. Add curry powder and stir for 2 minutes or until curry powder starts to brown. Add all other ingredients stir and allow cooking for 5min.
Potatoes
In hot sauté pan add coconut oil, thyme and garlic and stir for 1 minute. Add cooked fingerling potatoes,salt and black pepper. Toss and serve.