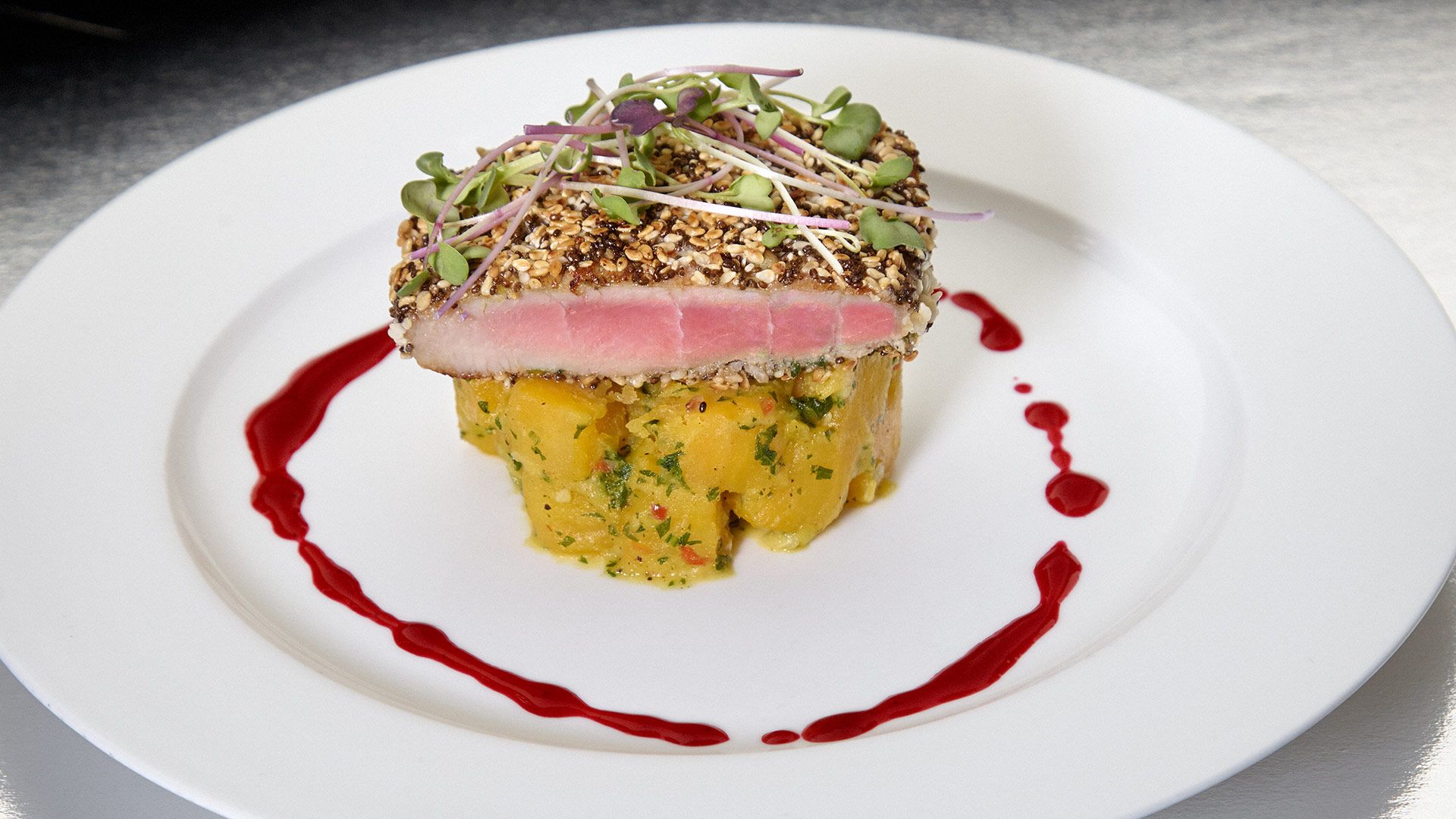 06 Oct

Pan-seared sesame crusted Ahi Tuna

Pan-seared sesame crusted Ahi Tuna on top pimento coconut sweet potato drizzled with Beetroot

Ingredients
(serves 1) prep time 10minutes
Ahi Tuna 8 oz
White sesame seed 2 oz
Black Sesame seed 2 0z
Egg whites 1 oz ( for Brushing )
Ginger powder 1 tsp
Salt 2 tsp
Black peppercorn 1 tbsp
Garlic powder 1 tsp
Onion powder 1 tsp
Lime juice fresh ( 1 lime )
Butter salted 2 tbsp
Olive oil 2 tbsp
Fine thyme 1 tsp
Ingredients
Coconut Pimento Sweet potato
( serves 1) prep time 15 minutes
Sweet potato 6oz (Boiled 1 inch cubes )
Red bell pepper 1 oz ( diced )
Green Bell pepper 1 oz ( diced )
Yellow Bell pepper 1 oz ( diced )
Chive 1 tbsp ( chopped )
Cilantro 1 tbsp ( chopped )
Onion 1 tbsp ( chopped )
Carrots 2 oz ( diced )
New Zealand cheese 4oz
Heavy cooking cream 4 oz
Coconut milk powder 2 oz
Pimento 2 oz ( chopped )
Garlic 1 tbsp ( chopped )
Salt 2 tsp
Black pepper 1 tsp
Saffron 1 tsp
Butter 2 tbsp (salted butter Optional )
Ingredients
Beetroot Gastrique
(serves 2) prep time 10minutes
Beetroot 6 oz
White sugar 3 oz
Salt 1 tbsp
Bay leaf 1 leaf
Lime juice fresh 1 oz
White vinegar 1 oz
Cinnamon 1 tsp
Clove ó tsp
Corn starch 2 oz
Directions
Pan-seared sesame crusted Ahi Tuna
Pat Ahi Tuna dry and set aside. In a small bowl, place dry Ahi Tuna a season with ginger, salt, black
pepper, garlic powder, and onion powder let marinate for 15 minutes.
Mix both sesame seeds together. Brush Ahi tuna with egg whites and coat with mix sesame seeds.
In Hot skillet or sauté pan add olive oil, allow heating up before adding Ahi Tuna.
Cook on one side for 3 minutes, flip and cook for another 3 minutes then add butter and fine thyme.
Tilt sauté pan slightly and using a spoon scoop melted butter on top of Ahi Tuna and switch off heat.
Directions
Coconut Pimento Sweet potato
In hot sauté pan add butter, onion, garlic, pimento and carrots, allow to sweat for 4 minutes.
Add cooked sweet potato and stir gently. Add all diced bell peppers, salt, black pepper, saffron heavy cream and cheese.
Allow to cook for 3 minutes switch off heat then add chive and cilantro.
Directions
Beetroot Gastrique (serves 2) prep time 10minutes
In a small sauce pot add all ingredients except Corn starch. Fill with water just above the beetroot level.
Allow the beetroot to cook thoroughly. Take out the bay leaf and blend the mixture till smooth.
Strain mixture then place liquid back in saucepot.
Add water if necessary, bring to a boil. Adding 1 oz of water to corn starch
In a separate bowl, slowly add corn starch mixture until the sauce is smooth and coats the back of the
spoon.