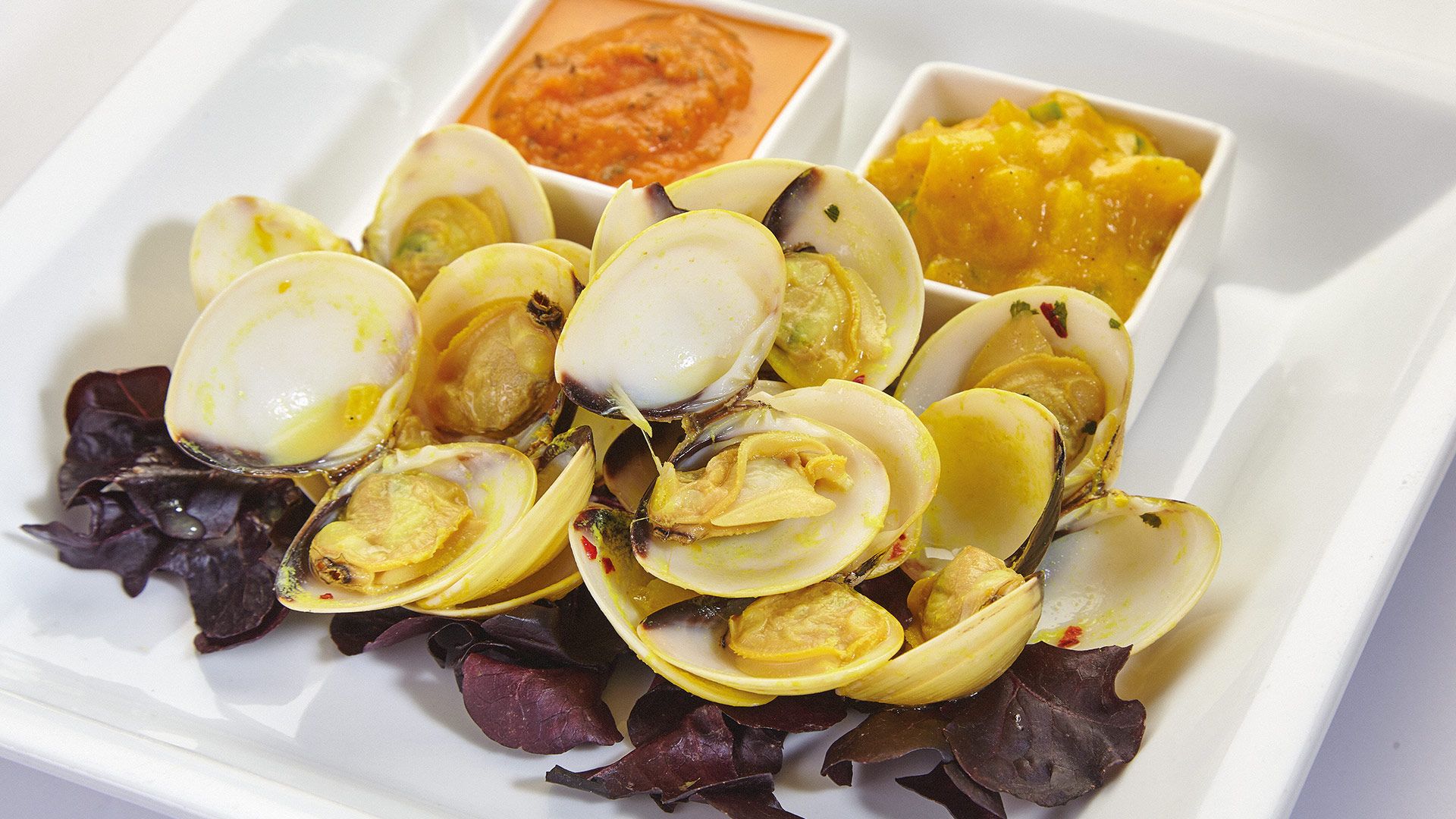 16 Jan

Sautéed Clams Saffron Potato, Tomato Choka
Ingredients
Sautéed Clams 
½ pack Ocean Delight Clams (9-12 each) 

¼ cup – Chopped onions

1 clove – Minced garlic

¼ cup – White wine
Tomato Choka
3 whole – Plum tomatoes

2 cloves – Minced garlic

½ tsp. – geera

1 each – Chopped pimentos 

¼ tbsp. – Chopped shadon beni

½ tbsp. – Chopped chive

1 tbsp. – Onions
Saffron Potato
4 oz. – Peeled and diced potatoes

1 tbsp. – Chopped onions

1 clove – Minced garlic

Saffron powder

2 tbsp. Vegetable oil

2 cups vegetable stock
Directions
Heat Sauté Pan with olive oil to medium heat, add onions, clams, garlic and sauté for 2 minutes until onions are soft.

Add white wine and simmer for 3 more minutes covered at a lowered temperature.

Remove clams from pot and set aside, add diced potatoes, saffron, additional aromatics and vegetable stock. Bring to a boil and leave to simmer until potatoes are cooked through for 8-12 minutes.

When potatoes have been cooked return clams to the pot to allow to incorporate all the flavours.

In a separate pot, sweat the aromatics for the choka, on a moderately low heat (onions, garlic, pimentos, geera, shadon beni, chive) till soft, set side to be blended.

Over a direct flame roast the tomatoes skin on to achieve a good char on the outer part of the tomato.

Then combine tomatoes and aromatics in a bowl and roughly crush tomatoes together with other ingredients.
Season to taste with salt and pepper.