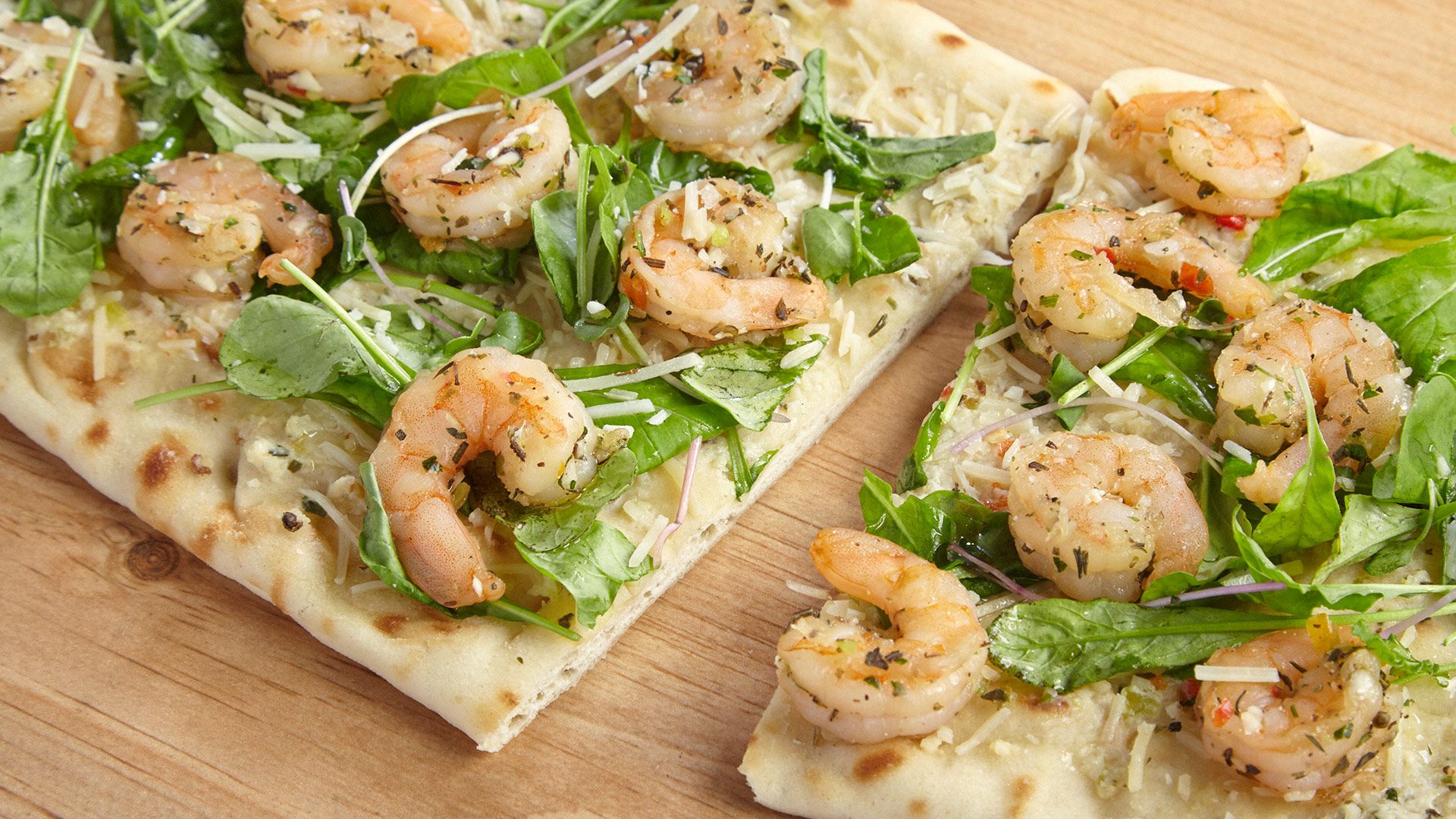 06 Oct

Shrimp Alfredo Flatbread with spicy Arugula

(serves 1) prep time 45min
Ingredients
Shrimp (61-70) 4 oz (packaged cooked )
Cayenne pepper 1 tsp
Black peppercorn 1 tsp
Salt 1 tsp
Lime juice fresh ó tbsp
Onion powder 1 tsp
Oregano fresh 1 tbsp (chopped)
Extra virgin olive oil 1 tbsp
Alfredo sauce
Butter (salted ) 1 tbsp
Heavy cream cup
Garlic chopped 1 tbsp
Parmesan cheese grated ó cup
Parsley chopped 1 tbsp
Onion chopped 1 tbsp
Fresh basil chopped 1 tbsp
Flatbread 
Dry Yeast 1.5 tsp
White sugar ó tsp
Warm water ó cup
All purpose four 1 cup plus 2 tbsp
Olive oil 1 tbsp
Salt 1/2 tsp
Method
Shrimp
In a small bowl add all ingredients mix thoroughly set aside allow marinating for 10mins.
Alfredo sauce
In hot sauce pot add butter, garlic, onion and allow cooking for 1 minute. Add heavy cream and bring to a boil. Stir in parsley, basil, and parmesan cheese.
Flat bread
Preheat oven to 375 degrees F. In a medium bowl, dissolve yeast and sugar in warm water. Let stand until creamy, about 10 minutes. Stir in flour, salt and oil. Beat until smooth. Let rest for 5 minutes. Turn dough out onto a lightly floured surface and pat or roll into a round. Transfer crust to a lightly greased pizza pan or baker's peel dusted with cornmeal. Spread Alfredo evenly on rolled dough. Add shrimp and top with parmesan cheese.
Place in preheated oven and bake for 15 to 20 minutes. Remove from oven and top with spicy arugula